All agents know what advertising for real estate means. It's challenging to stand out in the competition. It's even more constraining as for the narrow possibility to use guerilla marketing or generating referrals. But wait! Have you thought about Facebook ads for real estate?
Facebook ads are a game-changer. With this fast yet savvy method, you will have more customers knocking on your door.
One can hardly imagine a more convenient and powerful platform than Facebook ads. Here the retailers dispose of multiple options to deliver the message to the more convenient group of people.
Stay tuned and get the best real estate Facebook ads hacks to bring more results.
Hack 1. Build a convincing Facebook page
If you're going to use this platform, the first thing you should do is to create a convincing Facebook page. Skipping the technical part of how to create a Facebook page, let's jump to the most critical steps.
As a businessman, choose the business or brand category label for your page. Here some data are needed to fill in about the scope of your business activity and your location.
Then you need to upload a real profile picture expressing your professional approach. As a cover photo, you are recommended to put your company logo. Thus, your page visitors will immediately know what firm you are representing.
Next, move on to grant your Facebook page more professionalism.
Insert your website link.
Create contact forms by email, phone, etc.
Put a short description of you as a realtor.
Show your certifications and awards.
Inform about the specific field of your business.
Ta-dam! Your Facebook page is ready! Enjoy!
Hack 2. Boost Facebook page likes
You already have a compelling Facebook page, and it's time to increase likes by communicating people.
A super way to do that is to connect with those on the same plate – with other realtors.
Connecting people from the same industry helps you be included in a Facebook search platform. In other words, it starts suggesting your page to those who have a previous interaction with it.
Having completed this phase, start advertising your page on your site. A simple feature of a downloaded like button will give a user a possibility to connect with your Facebook page and remain in your webpage at the same time.
The more portion of getting likes is due to the content you're delivering. Write in a professional language mixed with natural scent. This will help you seem both an expert and a person who people will start relying on.
Hack 3. Have a targeted audience
Once you start your ad campaign, it's essential to know who you direct your efforts to. Perform for one type of people group rather than bothering about the massive crowds. Thus you will have more chances to make people press your ad and come to your page.
Hack 4. Do It locally
Operating for the local market is crucial on the way to success. Be careful while targeting your audience as no one is going to become a client from another city or being out of the general targeting area.
Apply the Facebook geo-targeting tool that will help to specify a particular area.
Hack 5. Use marketing psychology
Imagine putting ads for the younger people wanting to buy a real estate and for the elder people approaching retirement. Feel the difference?
Everything should be different and specific, depending on who you sell the product. So putting some psychology is the best practice to raise your sale rates.
Specify the language of your ads to create emotional bondage with your audience.
Stats say people who know they are targeted consider it as a praise. They clicked the ad, thinking Facebook shows it based on their previous similar click-history.
Hack 6. Use catchy graphics
Transmit great messages with the graphics. Catch people's attention in just a second with the highest chance to turn them into your customers.
Show people you share their values. Find a delicate way to communicate it through Facebook ads for real estate.
Hack 7. Play attractive videos
They are necessary to boost your like loads. Organic content is good, but not sufficient at this platform. It's all about setting goals and exposing your brand. This always becomes a useful method for those that just start.
At this phase, broadcasting appealing video content will be a bomb fact to gather tons of views and likes. And all this is possible with a video that doesn't even require a sound. Producing video content ads that contain captures is better for building brand awareness.
Try to create videos whose length is less than thirty seconds. This attracts people from the point they don't waste time watching videos all day long. They try to find what they need in several fractions of seconds and leave the page. You already understand how vital those seconds are for your business.
That's simple! Start your brand awareness campaign!
Hack 8. Write compelling copy and CTA
Copyright is engaging and straightforward. Imagine you're writing for the 3rd grader. Show your consumers the quickest way to get what you offer without entering into describing details.
Put the accent on what they would win if they use your products, and what they would lose if not switched to your services.
Create appealing content for Facebook ads for real estate. It should be short and not similar to an explanation.
Sum all this up with a compelling call-to-action to drive your conversions. Be honest and concise with your customers. Show your clear goals with Facebook ads and encourage them to action.
Hack 9. Learn from others
Investigate previous experience for successful Facebook ads for real estate. Study the most effective ones in the area, even if it's your competitor. Measure the engagement it's getting. Click on them to see what it looks like. Use Facebook Ad Library to spy on your competitor's Facebook ads.
Hack 10. Always A/B test your ads
Everything can be ideal you have done so far. But testing will always make it more perfect. Bear in mind Facebook created the unique opportunity to do your examination. This allows you to run two ads at the same time and get the knowledge which one is more effective. Also, you can experiment with your targeting, bidding, and many other features.
Hack 11. Use carousel ads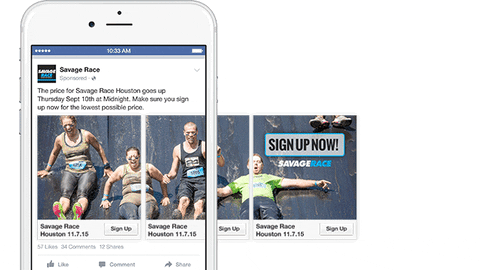 This technique is the best way to show yourself in multiple rooms. Display a range of images so your viewers can scroll and see these listings. This format is one of the most effective ways to capture your buyer's eye.
Hack 12. Direct your traffic to a convincing webinar
A traffic campaign is another type of Facebook ads. As soon as the quantity of your followers rises, start offering your retail products. Yet a more engaging tip for maintaining your traffic campaign is driving it to a webinar.
They are number one in terms of generating leads. The core point you should consider is building trust. Explain as simple as possible. Put your company's values on top. Make people come to your site and have a constant knowledge they will soon have their victory recorded.
Help them with some tips based on your previous engagement in the sphere. Convince them you are the best of the top players and expert in your field. The ultimate goal of your webinar is to prove that you are the right realtor for the client.
You'll convincingly become number one realtor if you use these real estate Facebook ads hacks to add your click rates and boost your client's involvement.
For that, you should be strategically persuasive and don't skimp your time, efforts, and means to enhance your performance.
Good luck!